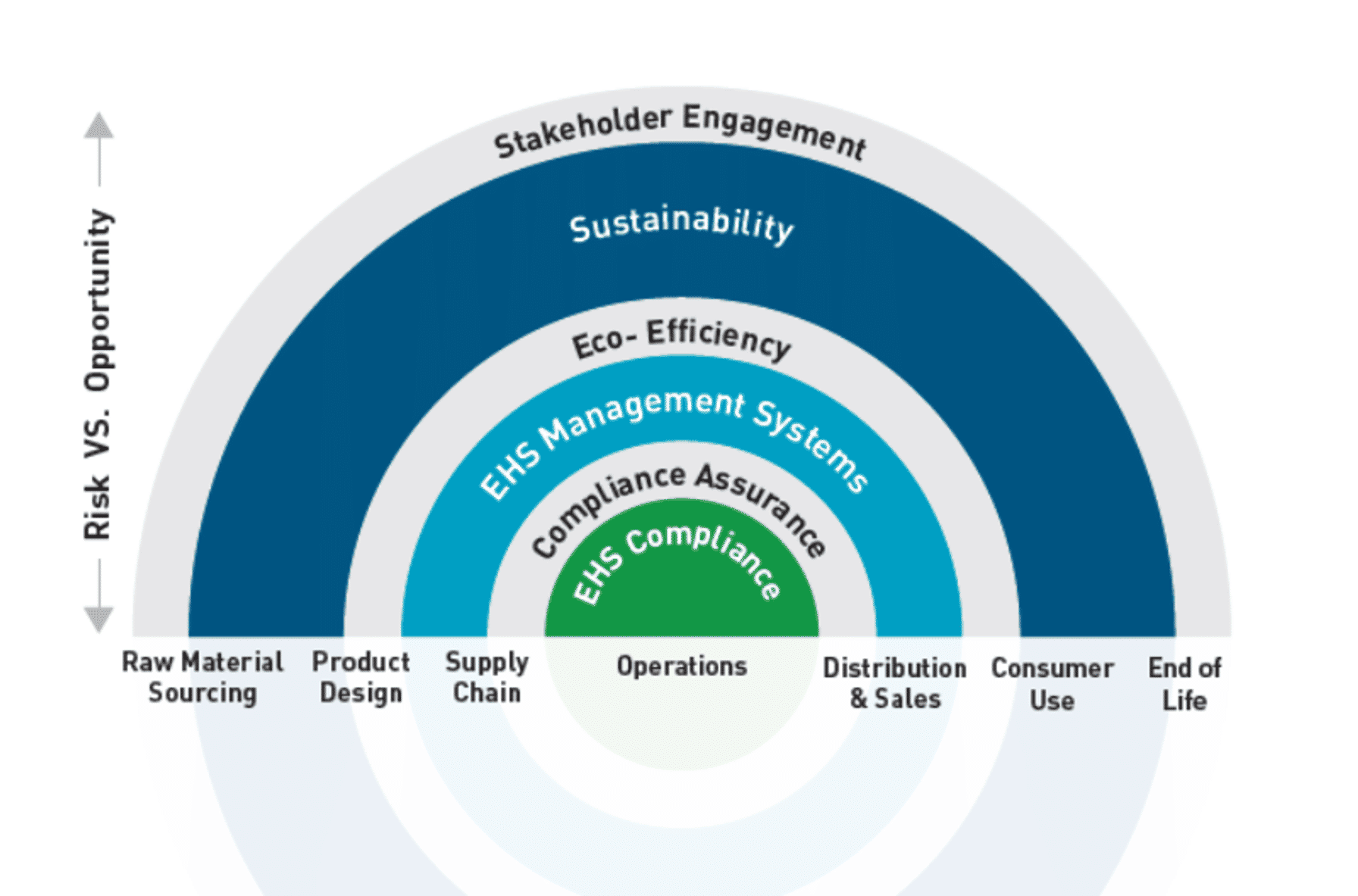 Following the 1992 Rio Summit on the Environment, the International Organization for Standardization (ISO) published ISO 14001: Environmental Management Systems to advance organizational commitment to environmental improvement. Just as the management systems perspective advanced the environmental focus beyond compliance in the 1990s, the application of the broader sustainability vantage point now provides an even more expansive vista and value proposition twenty years later.
Connecting and leveraging the Environmental Management Systems (EMS) framework as a tool to promote the broader business objectives is key to an integrated approach to sustainability.
The EMS framework is designed to manage environmental impacts associated with an organization's activities, products, and services in alignment with its policy and commitments. ISO 14001 takes into consideration legal and other requirements (including organizational commitments to sustainability initiatives) and requires commitment to continual improvement. As such, an EMS can form a critical bridge between compliance assurance programs and broader sustainability objectives. An organization without a compliance foundation is not sustainable – but neither is an organization solely focused on meeting current regulatory obligations.
Sustainability is not limited to environmental issues, but includes financial and social issues as well. Additionally, a mature sustainability program encompasses not just those impacts on the organization itself but impacts to society at large, and thus requires inclusion of perspectives from entities outside the organization, supported through transparent disclosure. The Plan-Do-Check-Act approach to management systems, as outlined in ISO 14001, lends credibility to risk identification, performance tracking, and transparent disclosures – the foundations of good governance. While ISO 14001 does not address external reporting, its elements (e.g., monitoring and measurement, evaluation of compliance, documentation) can be employed effectively to protect against green washing in an organizations' external environmental disclosures.
Environmental issues are evolving in an ever more complex and interconnected manner, with solutions embedded in systems thinking. Global megatrends like climate change, water scarcity, commodity scarcity, and population growth often present longer term risk considerations with impacts throughout the extended supply chain. Climate adaptation and water scarcity, for instance, focus on future risks to the business infrastructure from climate change (e.g., flooding, heat stress, drought). The core purpose of the 14001 EMS is to identify and control the organization's impacts on the environment, while climate adaptation and water scarcity are inversely focused on the environment's impacts on the organization. These issues may be better suited therefore, within a systems framework such as ISO 22301 – Business Continuity Management System, published in 2012; although GHG reductions and water conservation fit well within the EMS structure.
Likewise related sustainability issues like energy, social responsibility and business risk can be addressed through ISO 50001 (Energy Management Systems – Requirements with Guidance for Use), ISO 26000 (Guidance on Social Responsibility), and ISO 30001 (Risk Management – Principles and Guidelines) but integrated with an organization's existing 14001 EMS to reduce redundancy and increase effectiveness. Similar to the integration of quality management (ISO 9001) and occupational health and safety management (OHSAS 18001) into the EMS, today's EHS managers are exploring linkages to these other systems approaches to address environmental concerns and sustainability issues from a holistic perspective and to drive efficient and effective outcomes.
This systems integration orientation is reflected in ISO's movement toward a generic management system model for wide application. The publication of ISO/DGuide 83 outlines high level structural alignment of the management system standards as well as identical text in common core management system terms and definitions.
Several significant changes to the ISO 14001 standard have also been proposed, with the revised publication expected in early 2015. The proposed changes include a strengthened relationship between the EMS and the organization's core business, the contribution to sustainable development, social responsibility, and strengthened environmental performance.
While the traditional EMS framework is not designed to address sustainability complexities in full, a robust EMS can certainly be leveraged to bridge environmental compliance programs and sustainability initiatives in support of an organization's sustainable business objectives.
Linking an EMS to other management systems is also effective leverage of the systems approach to sustainability. As these standards continue to evolve, more effectual alignment will be facilitated and the use of these system integration methods to achieve sustainable business outcomes will become main stream.