Specialized Consulting
Transaction Advisory Services
Creating value for deal makers and corporate managers seeking to capitalize on risk by taking a business approach to Environmental Liability Management Services.
Impactful due diligence, post-acquisition integration support and sustainability.
TRC provides Transaction Advisory Services (TAS) to private equity firms, corporations, institutional investors and lenders, pension funds, developers and law firms across the globe. TAS draws on its extensive market skills, liability management experience and deep bench of global subject matter experts and consulting professionals to conduct worldwide transaction due diligence and assess and execute post-acquisition value creation opportunities.
Transaction Advisory Services conduct worldwide transaction due diligence and assess and execute post-acquisition value creation opportunities. We distill complex technical information into commercial-friendly results that allow investment, legal, accounting and insurance professionals to make timely and confident decisions during the whirlwind of a transaction.
Our team is primarily located in the US and UK, with local partners providing expert assessment globally. TRC has 30+ years' experience of delivering transaction support in all sectors including chemicals, pharmaceuticals, real estate, oil and gas and consumer products. Our services are fully customizable to client needs, including EHS due diligence, liability estimation, ESG risk screening and post-transactions integration, and are supported by our vast company-wide network of subject matter experts.
EHS Due Diligence
Every deal is different, and clients may have varying diligence requirements. TRC is adept at tailoring and conducting the specific diligence scope – ranging from simple ASTM Phase I's to complex M&A asset evaluations requiring 100s-1000s of facility inspections and full liability analysis including both known and unknown potential non-compliance/remediation or other latent liability analysis and quantification. Our broad scope of services are customizable and supported by our vast company-wide network of subject matter experts.
Oil & Gas Technical Due Diligence
Today in many M&A transactions, investments require additional vetting and assurance around asset's physical operations and equipment. TRC specializes in the technical evaluation of O&G systems ranging from full linear project scoping, design, construction costing, process flow modeling and capacity assurance to mechanical integrity and corrosion analyses. TRC's O&G services group has over 200 subject matter experts that support transaction diligence.
Liability Quantification and Cost Modeling
TRC is a market leader in the identification, quantification and cost estimation of environmental risk. We support our clients in a broad range of transactional, insurance underwriting and financial/risk management applications. Using Decision Trees and Monte Carlo simulations, TRC analyzes entire portfolio of sites, providing comprehensive environmental liability costing services.
Post-Transaction Planning and Integration Support
Often during due diligence, issues are identified that may or may not rise to the level of a material issue, yet they still require corrective actions and are often left as open items for the operations teams to address post-closing. TRC works with the operations teams to prioritize open risk items including risk mapping and development of 100-day plans. Our extensive company-wide network of over 120 offices and 5,000 subject matter experts provide the basis for any post-transaction support role a client may need.
ESG/Sustainability Screening
As a growing interest continues with environmental, social and governance (ESG) issues among leading private equity firms, their institutional investors, public corporations and their stakeholders, M&A activity is now mandating a determination and assessment of a target's ESG programs and performance to these non-financial performance indicators. In response, TRC now provides an ESG Risk Screening Tool, AnalyzESG, for ESG due diligence engagements. In addition, our ESG and Sustainability Advisory Services team can perform detailed ESG, sustainability, climate risk analyses, strategy development and program support including data collection, monitoring and reporting to meet global reporting initiatives.
Global Delivery
TRC maintains a global partner network to ensure that we can select the best resources for each project, maintain project delivery schedules, provide cost effective resources and project teams focused on your project's success. We have used this approach to transactions for over 20 years and have an established partner network on six continents providing expert, local consultants in industrialized nations. All project delivery is fully scoped, overseen and reviewed by TRC's experienced transaction advisory leads located in the US and the UK.
500+
500+ Engagements Annually
165
165 Clients World-Wide
600+
600+ TRC Professionals Engaged
TRC Quantifies and Reduces Uncertainty
We use innovative approaches that quickly allow clients to evaluate a quantification of downside risks and new opportunities.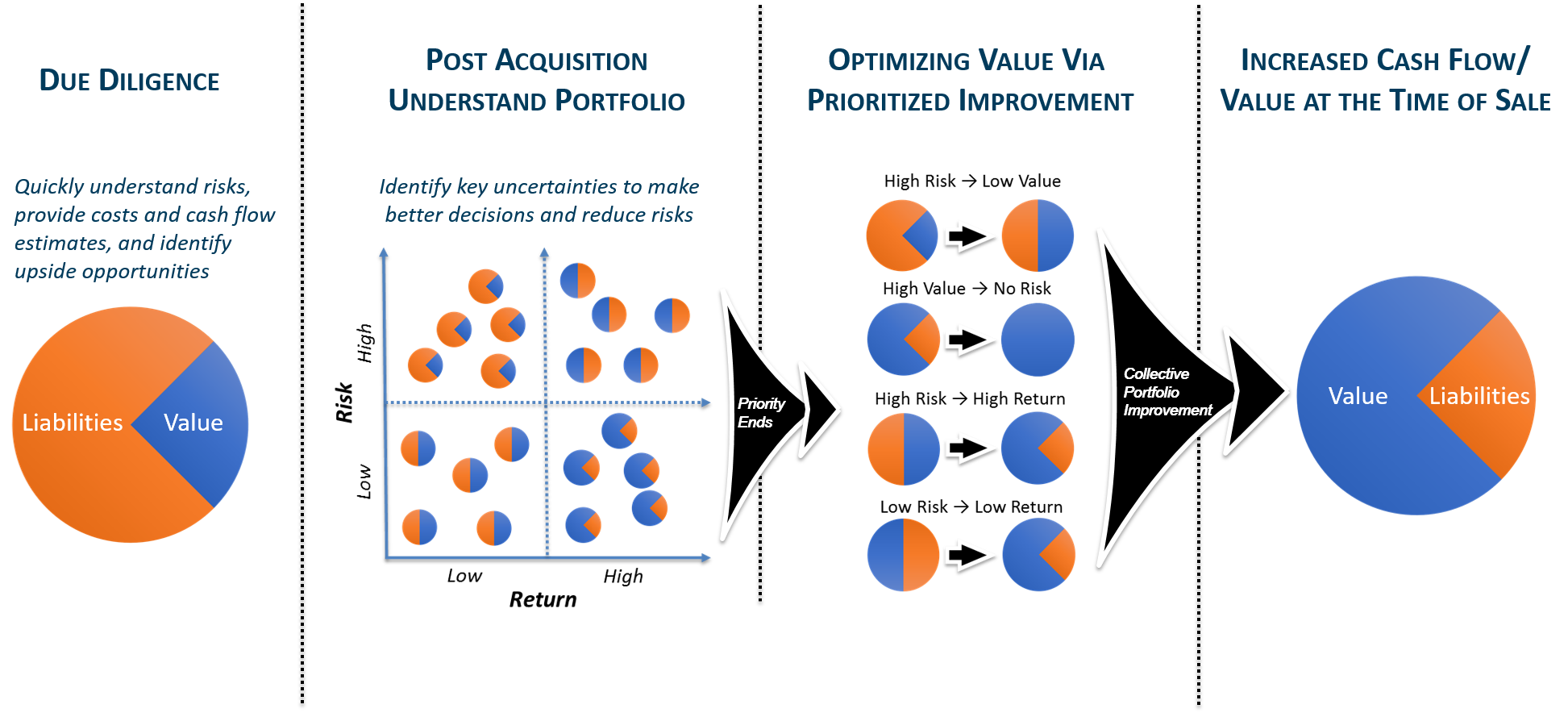 Trusted Advisor Value Creation During Post-Acquisition
100 Day Post Acquisition Planning and Integration
Environmental, Health and Safety Compliance Audits
Portfolio/Asset Assessments; Preparation for Divestiture
Environmental, Social and Governance Improvements
Chemical Reporting and Product Stewardship
Site Remediation
Looking for effective solutions to your problems?
Turn to the experts at TRC.