At the beginning of this year, TRC Companies announced the launch of TRC Digital, its latest offering, which combines best-in-class engineering and consulting services with new and innovative technologies. Shortly after the launch, COVID-19 hit and TRC was able to use many of the digital capabilities developed to pivot toward solving business challenges directly related to COVID-19. As featured in the Environmental Business Journal, Ryan Renner, TRC's Chief Digital Officer, delves into the importance of taking advantage of data and digital technology.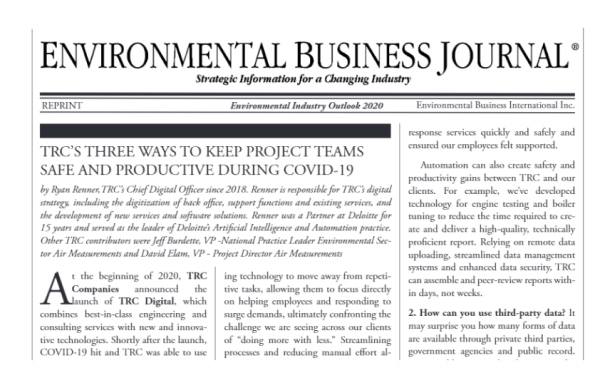 Three ways to keep project teams safe and productive during COVID-19
In this time of uncertainty with the coronavirus disease (COVID-19), it is important to plan ways to keep people safe and productive. With data and digital technologies at our disposal, the ability to maintain safety and productivity may be easier than you think. Here at TRC, we are supporting our own people and our clients' business priorities in new ways with industry-leading services and technologies.
Here are three digital technology questions, and more importantly, several solutions to consider now and in the coming months when navigating how to direct your business forward during this crisis.
How can you use automation?
Automation – some are skeptical, but in times of strained resources and remote teams, automation can be especially helpful. With simple algorithms and leveraging existing software tools in new ways, you may be able to quickly experience efficiency gains.
At TRC, we were able to automate around thousands of hours of internal HR activities stemming from our COVID response. Our HR team led the way in adopting a new way of thinking using technology to move away from repetitive tasks allowing them to focus on directly on helping employees and responding to surge demands, ultimately confronting the challenge we are seeing across our clients of 'doing more with less'. Streamlining processes and reducing manual effort allowed TRC to redirect field teams to crisis-response services quickly and safely and ensured our employees felt supported.
Automation can also create safety and productivity gains between TRC and our clients. For example, we've developed technology for engine testing and boiler tuning to reduce the time required to create and deliver a high-quality, technically proficient report. Relying on remote data uploading, streamlined data management systems and enhanced data security, TRC can assemble and peer-review reports within days, not weeks.
How can you use third-party data?
It may surprise you how many forms of data are available through private third parties, government agencies and public record. How could you use this data to supplement or drive forward your project during this time where on the ground field work may be limited or halted?
For example, with our digital platform for field service teams, TRC is helping clients pull land titles through proprietary databases. In the past, title documents had to be individually pulled in person or via an individual records search, we are now pulling and automatically analyzing thousands of titles in bulk using AI to help keep projects going and avoid downtime.
Another digital solution incorporates specialized sensors to monitor indoor air quality (IAQ). Given our legacy and strength in air measurements, TRC was able to advance IAQ service offerings to include an air test specifically for SARS-CoV-2 (the virus that causes COVID-19). The sampling method relies on proven approaches to collect air samples, which are then shipped to a specialized laboratory for analysis. Our experienced and credentialed laboratory partners offer expedited turnaround time that enables clients to rapidly access actionable data through our data management platform.
Additionally, we are engaging with third-party sensor firms and research organizations to incorporate our design criteria to produce next generation monitoring platforms. These sensor networks will provide users with real-time data on a secure, customized platform that allows them to advance building automation management from the basics of energy management to advanced levels of biological threat mitigation.
How can you use your company's existing data?
Most businesses have mounds of data at their disposal. Now is the time to think about ways you could use that data to enhance your operations or improve customer interactions. Pulling your existing data into a business intelligence (BI)/data visualization tool can help you quickly spot insights that would have been impossible to see in rows of spreadsheet data.
Again, this is something that can be done within days.
For example, the weekend after our work from home order went into effect at TRC, our digital team created an app to take the pulse of our employees to determine if they were safe and if they were able to continue current project work. Through the app, employees respond to 4-5 questions weekly. That data is fed into a BI dashboard so we can quickly determine safety and productivity of our workforce and create forward-looking predictions and plans to staff projects.
Another example of using existing data involves a digital solution for inspection insights. Fabrication inspectors can enter their inspection data into a cloud-based platform for all project managers on the fabrication team and constriction management team to view. That data is then analyzed in real-time for progress vs. plan, trends in fabrication completeness and quality, and potential impacts on not just the fabrication schedule but also the complete project design and construction schedule.