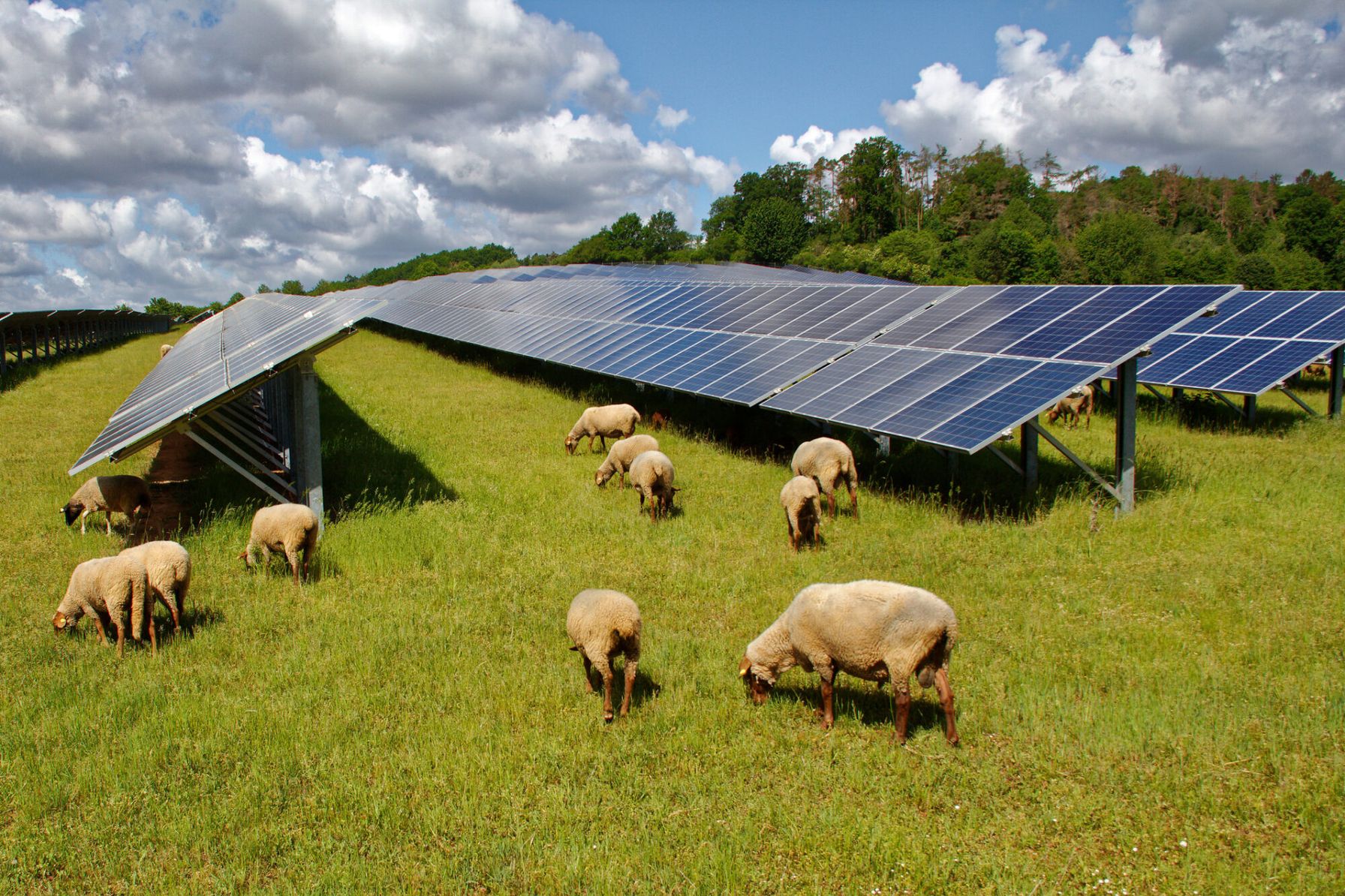 Learn how incorporating agricultural practices into your solar development improves project success
Agrivoltaics, the innovative fusion of traditional agricultural practices with solar installations, is revolutionizing land use and energy generation. By seamlessly integrating farming and livestock elements into photovoltaic facilities, solar developers, owners and operators can not only diversify revenue streams but also reduce environmental impact and strengthen community ties. Based on our expertise and experience we explain the benefits, best practices and economic potential of agrivoltaics to build a more sustainable future.
What are the Benefits of Agrivoltaics?
Agrivoltaics is the simultaneous use of areas of land for both solar photovoltaic power generation and agriculture practices including sheep grazing, row crops, pollinator plants and nearby beehives.
Typically, solar panels capture sunshine on structures like roof tops, non-agricultural land, or even cars and road signs. But agricultural land is the most suitable for solar farm construction due to cleared areas, usually relatively flat land, viable, nearby electrical interconnections, lower cost leases and positive landowner relationships. Employing agrivoltaics in a solar development reduces project opposition and operating costs. The land use benefits can support a more streamlined environmental permitting process and enhances community acceptance and local stakeholder support.
Agrivoltaics solves complex problems for the landowners, community energy grids and even supplies financial relief over time. This practice is expected to grow at a compound annual growth rate of 10.1%.
One main benefit of argivoltaics is to provide another revenue stream for landowners who want to both farm and manage their leased land. Additional benefits are lower Agricultural Impact Mitigation Payments, increased reputation within the local community and more favorable evaluation and approval of solar projects. A recent survey of two U.S. communities found that when agrivoltaics was included as a feature in a proposed solar project, public support for the project increased by 81.8%.
Key Agrivoltaic Practices
Agrivoltaics includes three main practices: pollinator production, crop production and livestock grazing. Implementation varies depending on the size of the solar installation and the type of collection used.
Crop Production
In the United States, thirty-five acres of solar sites use crop based agrivoltaics producing just over 8 MW. This involves planting crops under or in-between rows of solar panels which provide shade for crops, given that the plant is shade tolerant. This technique can lead to larger yield and allows the soil to better retain water which contributes to overall plant growth. For the solar operator, crop production agrivoltaics offers more acreage to use for energy collection. While traditionally owned solar panels are installed on roof tops or other areas with limited space, the opportunity to develop land is less advantageous than using land rich with crops.
Solar Beekeeping
As of 2023, 10,812 acres of solar sites in the Unites States incorporated a pollinator habitat which led to a total capacity of 1,864 MW. Pollinator habitats come in two forms: solar beekeeping and solar-pollinator habitats. Solar beekeeping involves co-locating beehives and photovoltaics to benefit both the farmer maintaining the hive and the facility operator. Solar panel efficiency sees a sharp increase by cooler microclimates from pollinator ground covers. Pollinator friendly solar sites are authorized as an environmental compliance measure and can supply extra benefit to the solar company when completing the solar scorecard. While landowners earn extra income, and operators reduce maintenance costs by planting native vegetation. This also helps nearby crops by providing pollinators and improves soil health. The second type of pollinator habitats is Solar-Pollinator habitats which encompasses solar sites and native plants to cultivate pollinators, wildlife, soil quality and water conservation.
Grazing
As of 2023, grazing, also known as solar grazing in agrivoltaics, was employed on 15,278 acres of solar sires in the United States with a total capacity of 2,315 MW making grazing the most utilized practice of agrivoltaics. The practice involves employing grazing livestock on solar facilities to contribute to vegetation and landscape goals. Grazing was found to have significant cost savings, replacing the need for large mechanical vegetation management, and therefore avoiding capital and transportation costs.
Costs Analysis of Agrivoltaics
In a study for a proposed solar energy facility, the inclusion of grazing and beekeeping on-site proved to be economically advantageous. By co-utilizing the land, it lowers soft costs and enables the solar developer to reach its goals. Landowners received $250 per acre for vegetation management through grazing sheep, resulting in a $147 profit per acre along with the creation of six community jobs due to increased labor needs. Beekeeping generated income, with medium and large apiaries yielding $5 and $23 per colony, respectively. Additionally, beekeeping encouraged the cultivation of pollinator-friendly vegetation, enhancing the health of the facility grounds.
Regarding vegetation management costs in agrivoltaics, Operation and Maintenance (O&M) expenses typically account for 1-5% of solar facility's lifetime costs. Vegetation management costs can vary based on location, site characteristics and the chosen ground cover. A survey of U.S. solar facilities showed different costs for various ground cover methods as seen in the below image:
In summary, incorporating grazing and beekeeping in agrivoltaics projects can yield great economic benefits, create jobs and improve environmental sustainability. While vegetation management costs may vary, the long-term advantages make these methods appealing for solar facility projects, offering more than just financial benefits.
Next Steps: TRC Can Help
Embracing agrivoltaics not only streamlines the bidding process but also reduces costs, fosters positive community relations and unlocks a multitude of environmental and economic advantages for your project. With flexible options to suit your objectives and budget, the expanding agrivoltaics industry and shifting policies make it essential to integrate agrivoltaics into your next solar facility bid.
TRC's renewable energy team provides early solar design support and safety guidelines for agrivoltaic options. As a partner to solar developers, owners and operators, we help create agrivoltaic contracts that ensure operational success, while managing public visibility and media attention so you can overcome opposition and mitigate permitting challenges.
To learn more, visit our related service pages or contact our experts: