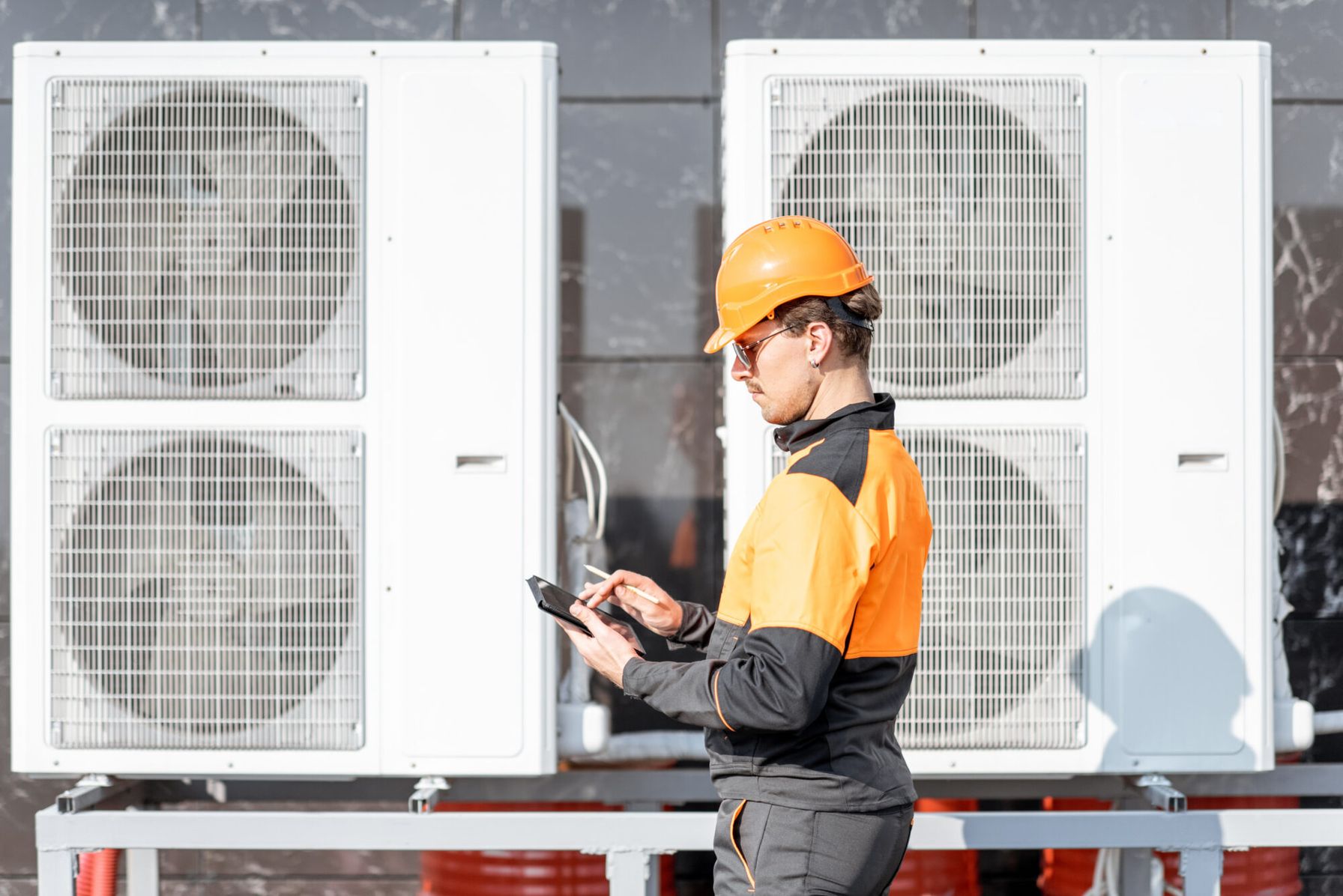 Heat pump technology is still evolving and real challenges exist to widespread market adoption.

However, many widely held perceptions surrounding heat pumps are solvable – and in some cases, already solved.
Heat pumps are a commercially available, viable, cost-effective technology that can supply carbon-free efficient space heating and cooling systems to many residential and commercial building types. We've seen promising results through the implementation of a diverse portfolio of heat pump programs and market-acceleration efforts across the United States, which are actively helping clients achieve decarbonization goals.
In this article, we explore five common myths about heat pumps that we often hear within the industry. Based on our expertise and experience, and the promising results of current programs, we explain our take on heat pump technology, and the opportunities (and challenges) presented by it.
Myth #1: You need back-up heat if you're going to install a heat pump for space heating in cold climates.
Our take: With proper system sizing, placement and installation, heat pumps can cover the entire heating load of almost any building in the contiguous 48 States. They can perform as well or better than dual fuel homes in extreme temperatures. And they can operate sufficiently without electric resistance backup. The best practice for optimal comfort and efficiency is to first improve the building's envelope through weatherization but even without that heat pumps can perform.
Heat pump technology has been around since the 1970s and has improved steadily since then, especially in terms of ability to function in colder climates. Because of the efficiency and variable capacity of inverter driven compressors, even at 5 degrees Fahrenheit, the highest performance cold climate heat pumps on the market can still deliver roughly 200% efficiency, twice the efficiency of electric resistance heaters. We've seen examples of heat pumps performing in northern latitudes that regularly experience subzero temperatures. There are dozens of market-available heat pumps that produce compressor-derived heat as low as -20°F.
Along with our partners, we have successfully implemented heat pump programs and demonstration projects in colder climates for many years, including a Heat Pump Technology Assessment Tool Development for National Grid in Upstate New York, a Cold Climate Air Source Heat Pump (ccASHP) Sizing and Design Visualization Tool for the Northeast Energy Efficiency Partnership and a residential heat pump decarbonization program in Long Island.
Myth #2: The more heat pumps that get installed, the more overloaded the grid will be.
Our take: Current heat pump adoption rates allow 15-20 years to proactively plan for grid readiness; key to this planning process are load management and load calculation methodologies.
Electrification from heat pump adoption will increase stresses on the grid in some regions of the country, due to increased winter load from space heating applications, and increased summer peak due to newly introduced cooling applications; however, the good news is that we have at least a 10-year runway to prepare for this shift. Utilities are experienced at managing increasing load, for example when air conditioners proliferated in the 1960s and helped fuel explosive growth in Sunbelt states. In many parts of the country, grid systems are built out for summer peak and underutilized in winter, so the grid can accommodate a good amount of electrification. New York State, for example, is expected to become winter-peaking in the mid-2030s.
Proper insulation of homes, done in tandem with heat pump installation, will be an important factor in reducing load stress. Implementation of Demand Response and load flex programs and associated controls will play a further role in reducing stress on the grid, as will the adoption of newer technologies including battery storage (grid level or behind the meter), pre-heating and other forms of thermal storage (hydronic systems in particular) and using phase-change material for capacity boost.
TRC works with clients to advise on load management and calculations, providing a cost-benefit analysis for the impacts of heat pump adoption and other forms of electrification and distributed energy resources (DERs). We are currently partnering with the New York State Energy Research and Development Authority (NYSERDA) to provide technical advisory services in support of the Comfort Homes Program, a residential pilot focused on high performance envelopes and readying homes for heat pump installations.
Myth #3: There aren't enough contractors who understand heat pumps to support a full incentive program.
Our take: The right workforce development and training approach can turn heat pump skeptics into heat pump advocates.
Perhaps the biggest obstacle to heat pump adoption at scale is the lack of trained workforce. After a rough couple of years post-COVID, we've seen all manner of supply chain shortages and shutdowns. As a result, qualified installers are still backlogged and they don't have enough crews to keep up with their workload. TRC is responding by deploying more trainings, creating support structures to bring more workers onboard, and providing resources for contractors to convert from other related fields.
In partnership with our clients, TRC is actively training a more diverse workforce and providing equitable opportunities for contractors from different backgrounds. To attract more workers to become qualified heat pump installers, we're collaborating with supply chain members to expand training, recruitment and retention for skilled HVAC contractors. In New York State, for example, we're partnering with NYSERDA on a unique workforce development program that offers climate justice fellowships, career pathways training programs, clean energy internships and other initiatives to candidates from all backgrounds. This training helps to prepare a strong pipeline of clean energy workers who will be qualified to install heat pumps and other efficient technologies at scale.
Myth #4: Heat pump benefits aren't significant enough to justify the high price tag.
Our take: The upfront cost of heat pumps can be offset by contractor training, incentives and tax credits and through cost compression analysis.
Heat pumps have earned a reputation as being expensive, for a variety of reasons. There can be overpricing due to unfamiliarity of the equipment in the supply chain; stocking practices have not yet been standardized, and many installers are not as experienced with heat pumps as they are with more familiar HVAC equipment. Novice contractors may also price in a risk premium, assuming that they may need to return to optimize unfamiliar equipment after installation.
Contractor training is key to reducing heat pump installation costs. A properly trained installer will: 1) match the load of the building to the capacity of the heat pump at the different temperatures of the region, avoiding the cost run-ups of over-sizing; and 2) recommend proper building insulation to ensure maximum efficiency of the equipment. Tightening the insulation of a building will reduce the size of the heat pump system that's needed and reduce associated costs. Utility incentives are helping reduce the cost barrier for heat pumps across the country, as are clean energy tax credits included in the Inflation Reduction Act (IRA).
To drive research on achieving total cost reductions for heat pumps, TRC is helping to quantify costs across the supply chain- for example our work with Lawrence Berkeley National Lab on a heat pump cost compression analysis. On the program side, we're partnering with utilities to implement new construction programs that include incentives for heat pumps in new homes. New construction is an ideal opportunity for heat pumps, as the incremental cost difference for installing heat pumps versus fossil fuel equipment can be negligible.
Myth #5: Heat Pumps aren't a good solution for larger Commercial & Industrial facilities because of higher temperature requirements and associated costs.
Our take: The technology is ready; heat pumps can be used in larger commercial and industrial settings, helping these customers achieve decarbonization and energy efficiency goals.
Our engineers recognize that heat pump systems in commercial and industrial (C&I) settings are more complex than in residential systems, due to sizing and interactions with existing HVAC and other energy systems. Compared to traditional equipment, C&I heat pumps require a greater upfront investment in system design, installation and maintenance, and sometimes require custom engineering, but we have found that the benefits and payback of heat pumps in C&I l applications can be achievable. While heat pumps as a standalone measure may not always pencil out for larger C&I buildings, TRC recommends evaluating them as part of an energy audit and as part of building electrification and modernization planning. Key factors to consider are:
Building size and program: Which HVAC products are available in the right capacity for the project? The evaluation may include heat recovery (HR) chillers, split systems, ground-source HP, air-source heat pumps, and other equipment.
Location and climate: Is the project's winter climate cold enough that air source heat pumps are a challenge? If so, a secondary heating system may be the best option. Another location-based factor to assess is marginal grid emissions, and how the chosen system lessens those emissions.
Budget: What is the capital cost associated with the project?
Space and structure: How much room is available for equipment, and can the facility bear the weight?
Electrical load: Will a facility need electrical service increase for increased electrical load? While electrical upgrades may add complexity and cost to the adoption process, the potential energy savings and long-term benefits of heat pump adoption may outweigh these costs (especially when significant investment is required to meet new building code requirements).
Temperature: What temperature is required for the facility? For typical commercial facilities, 140F hot water is sufficient for most applications, while industrial facilities have higher heating requirements. Heat pumps can typically provide 250°F and higher; and while most heat pump systems will provide a 100°F lift, using two machines in series (cascaded) can achieve 200°F from air below freezing or a geo-loop. For some C&I retrofit projects, a "hybrid" heat pump and gas boiler system can be a practical option to achieve the required temperature.
TRC optimizes energy systems for commercial and industrial facilities, providing full cost-benefit analysis of available equipment. Increasingly, we are finding that heat pumps are a cost-effective solution for many C&I applications, given decarbonization goals, non-energy benefits and longevity of equipment.
Join the Discussion: Tune in to our Heat Pump Podcast
Interested in learning more about the potential of heat pumps to transform space heating and cooling applications at scale? Tune in to our recent podcast episode, where TRC staff are joined by industry experts to take a deep dive into the opportunities and barriers facing the market. We explore topics including:
The basics of heat pump technology and various home heating and cooling technology types: air source, ground source, geothermal, ductless and more
The importance of heat pumps in meeting state and local decarbonization, climate and net zero emissions goals
Solutions to supply chain constraints, upfront customer cost and workforce shortage
Advances in cold-climate heat pumps: dispatches from Maine, Vermont and Scandinavia
A discussion on grid impacts from mass heat pump adoption
By planning, designing and implementing decarbonization and energy efficiency programs across the U.S., including dozens of heat pump programs across the U.S., TRC is helping our clients achieve a clean and equitable energy future for the communities they serve.
For more information on TRC's decarbonization, electrification, and energy solutions, contact us at: advancedenergy@trccompanies.com.